Why Kelvin Locklear Chose Progressive
The guy who builds it even when everyone else says no, Kelvin Locklear, is hitting the road with Progressive Commercial for a series of truck shows throughout 2009. Kelvin Locklear is the lead designer at Outcast Kustoms and owner of South Carolina's popular custom truck fabrication shop K&L Chrome. He and his crew – Outcast Kustoms – appear on a popular show about modifying trucks on a cable television channel.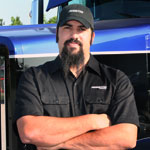 Kelvin knows trucking
Trucking runs deep in Kelvin Locklear's blood. When he was 3 years old, his father bought his first truck, and trucking has been a part of his life ever since. Kelvin met his wife April while selling trucks and trailers after selling a truck to her father.
At the K&L Chrome Shop, Kelvin and April build and design custom trucks and accessories. They do everything from painting trucks to tearing a truck all the way to the frame rails and building it back up again. He has a passion for trucking and the trucking industry and it shows in the custom trucks he and his wife build.
He says, "It's not a job for any of us. We get up and do this because we care. We don't do it because we're looking for financial gain. Building relationships in our business is what it's all about. People today still buy from people. It's always the relationship you have, that handshake, that personal touch you have with them. It's important that the customer feels like they've gotten a great product for a good deal."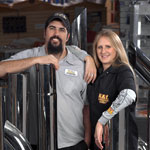 Why Kelvin chose Progressive
As a business owner and a former trucker, Kelvin puts his trust in Progressive for his commercial vehicles because of the relationships the company builds with its customers. Just like with his business, he feels Progressive keeps the customer's best interests in mind whether they're calling customer service or handling a commercial truck insurance claim.
"Customers are number one to Progressive. They always keep the customer in mind. If you need service after the sale, Progressive is there for you. If you get into an accident, Progressive will take care of your commercial truck insurance claim fast. Their in-house claims experts are professionals – they know trucks and they understand how important it is to get a trucker back on the road. If a trucker can't get back onto the road, their business might go under. Progressive's truck claims specialists take the hassle out of the truck insurance claim process and work with the customer and the repair shop to make sure that the customer can quickly get back onto the road."