Commercial van insurance
Get started with a free commercial van insurance quote today
Commercial van insurance can help protect your business and vehicles, whether you drive a delivery van or own a small fleet of cargo vans. This coverage is also known as business van insurance. Progressive Commercial is the #1 commercial auto insurer in America* and has customizable coverages for your business and cargo van needs.
Common business and commercial van insurance policies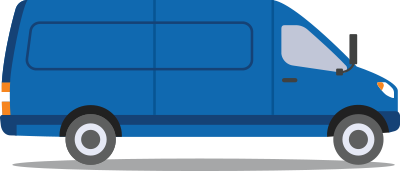 Cargo vans
Cargo vans are typically windowless, with two front seats and a large cargo area in the back. A cargo van usually has a company logo or name advertised on the side.

Passenger vans
Passenger vans typically seat 12-15 people and are commonly used by organizations, such as retirement homes and churches, to transport members.

Mini vans
Most people associate minivans with family, but many companies transform them into commercial vehicles. If you have a minivan for business purposes, we can insure it — even if you use it for personal errands, too.
Progressive Commercial also insures the following types of vans:
Delivery vans
Sprinter vans
Wheelchair vans
Catering vans
Call us or start a quote online to learn more about the different types of van insurance we offer.
Who needs commercial van insurance?
Small businesses that make deliveries, service calls, or transport people should have commercial van insurance, which can help them get back on the road after an accident.
Examples of businesses that often require commercial van insurance include:
Van insurance for independent contractors
If you work as an independent contractor and make deliveries using your commercial van, your employer may provide insurance to protect the goods you transport in your cargo or delivery van. They may also provide liability insurance to cover you while you're working.
Be sure to ask your employer about what coverages they provide because you might only be protected when you're on the job.
Commercial van insurance coverages
The most common commercial van insurance coverages are liability insurance and physical damage coverage.
Liability insurance covers your business and cargo vans when you or your employees drive them. This coverage pays for injuries or damage to other people or property if you're at fault for an accident.
Physical damage coverage can protect your van if it is damaged in an accident. Having enough coverage on your business van insurance policy can help you avoid losing business or profit if something happens to one of your commercial vans.
For a complete list of your commercial auto insurance options, review our commercial coverages page.
Get a commercial van insurance quote
Get a quote online or call us  to speak with a licensed insurance representative about your commercial van insurance needs today.
More information
*No. 1 commercial auto insurer from SNL Financial's 2021 national written premium data.​